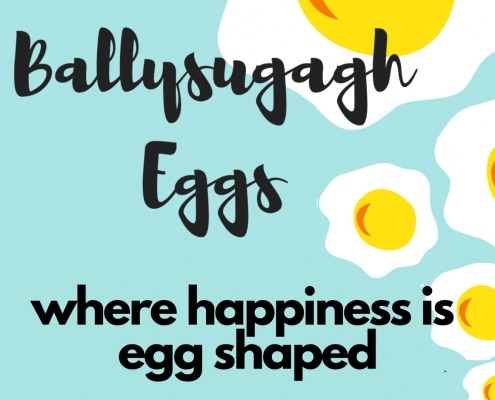 In less than a year Cliodna Hayes has totally transformed her life.

Newly returned from living in Australia she had taken up residence in a cottage on her parent's farm near Saul, Downpatrick.  It was her 26th birthday and when asked what she would like as a present she said "Some hens to help keep the grass down".  In May 2020, Cliodna took receipt of her gift of 10 hens, and she was hooked.  The following week she decided to buy another 10 to keep the first 10 company and the week after that she bought another 10.  A year later, she's not only got 200 hens but she's established a growing free-range egg business 'Ballysugagh Eggs'.
"Having grown up on a farm I expect I've always been a country girl at heart but when it came to planning for a career I studied Tourism and Hospitality at University and then went on to do a Masters in Event Management.   So a rural life was definitely not on my agenda.
After I graduated my aunt and uncle encouraged me to go to out to them in Australia where I first worked as a Bar Manager and then as Brand Manager for the NI drinks company Cool Swan.  When I came home again, early last year. I was very fortunate to get a position with Ulster Bank looking after their social media.  Of course that was all before my obsession with hens" laughs Cliodna.
Six months after her first hen had laid its first egg Cliodna had concluded that there might be an opportunity to turn her obsession into a business and in November 2020 applied for a place on the Go For It programme.  It was then that she was introduced to her Go For It Business Adviser Down Business Centre's Joan O'Hara and together, over the course of the programme, they took her idea and developed it into a viable business plan.
"The advice and support I got from Joan was invaluable" says Cliodna. "I knew that I wanted to create a truly free-range egg offering but I was very unsure about the best route to market for my eggs.  It was Joan who first suggested that I target a number of  farmers' markets with a view to selling my eggs directly to the end consumer and that's exactly what I have done.  I am now a regular at the markets in Saintfield, Newtownards and Bangor and also supply a small number of local retailers as well as a local bakery.
In March 2021, encouraged by her success to date, Cliodna took the opportunity to reduce her working hours with Ulster Bank and is now able to focus more time on the Ballysugagh Eggs business which is just as well as her flock typically produce around 150 eggs per day.
"I am very fortunate to be living my best life" says Cliodna.  "I know it might sound a bit corny but when I go out to gather the eggs every morning I feel that each egg is a gift from a hen and I am very thankful.  I am so passionate about my hens and my business.  I want everyone to have the opportunity to try a Ballysugagh egg so they too can experience what a hen that is living a happy life can produce".
So what of the future for Cliodna and her hens?
"Well over the next few years I hope to pursue my dream and be able to invest in a state of the art hen shed.  At that stage I would be able to have a flock of 6000 hens and that would be the pinnacle of my ambitions.  That scale of business would give me a good living but I will never be a millionaire keeping hens.  For me it's not about the money.  It's about a quality of life, contentment and happiness and hopefully   Ballysugagh will continue to give me all three in bucketloads". says Cliodna.
For more information about Cliodna and her Ballysugagh hens and eggs visit Facebook
https://downbc.co.uk/wp-content/uploads/2021/04/Ballysugagh-Image.jpg
1060
1500
Big Wet Fish
https://downbc.co.uk/wp-content/uploads/2020/04/DBC-300x109.jpg
Big Wet Fish
2021-04-21 13:46:00
2021-04-21 14:20:36
BALLYSUGAGH – WHERE HAPPINESS IS EGG SHAPED