More than forty percent of small business owners in the Newry, Mourne and Down Council area are feeling confident about the prospects for their business.
That is the headline finding of our recent Business Confidence Survey.  A total of 126 owners responded to the survey which was conducted online last month.
When asked how they feel about the prospects for their business going forward 7% said they were 'Extremely Confident', 36% of respondents said they felt 'Confident', 29% said they were 'Neutral', 22% said they were 'Worried' and 6% said they felt 'Extremely Worried'.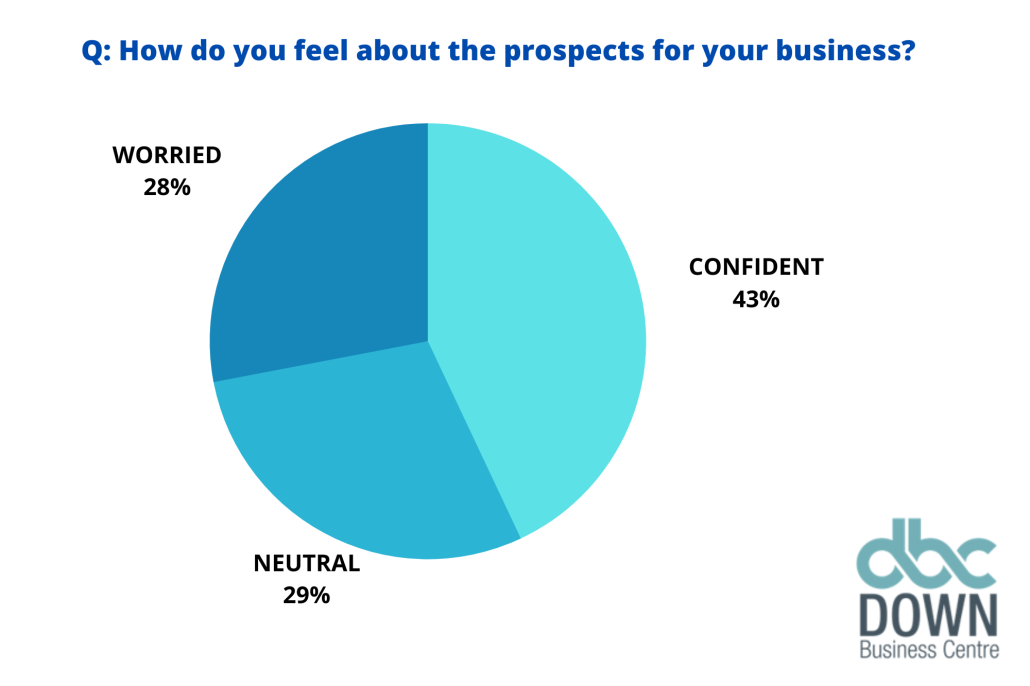 This level of positive response is particularly encouraging given well publicised issues such as the cost of living crisis, rising inflation and Increased energy costs.
Looking specifically at what those who described themselves as being extremely confident or confident saw as the reason for their optimism, 32% said it was due to their strong customer base, 28% said it was because their products or services were in demand, 22% cited their established market position, and 10% said they were confident because of the prospects of new business opportunities. Limited competition and good profitability were both highlighted by 4% of the businesses.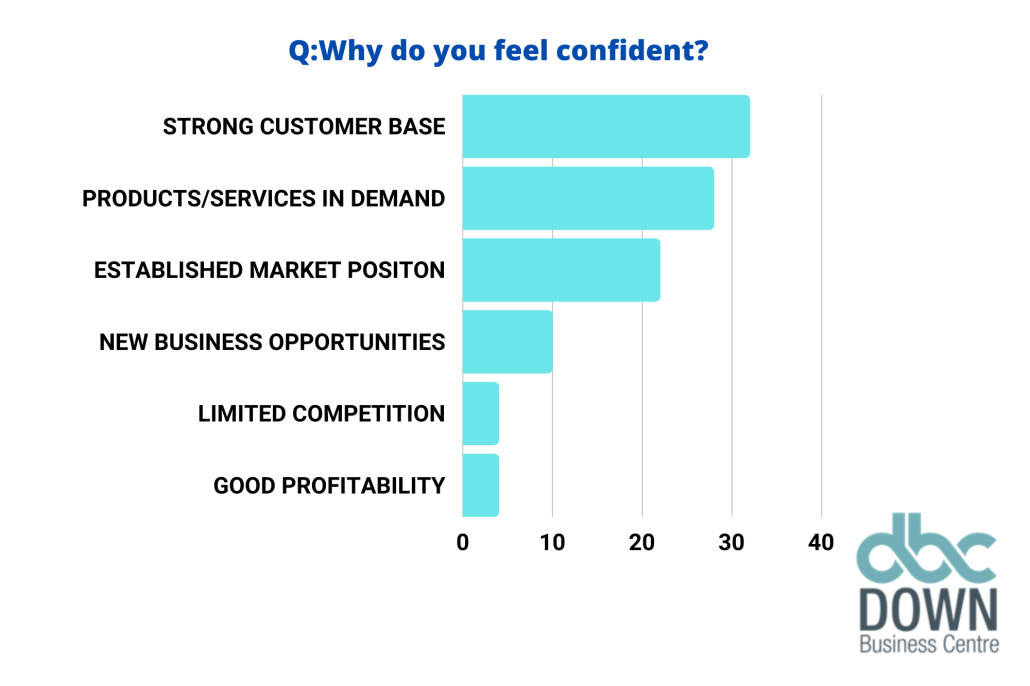 And for those who described themselves as being extremely worried or worried about the prospects for their business, 43% highlighted Increasing business costs, 25% cited a decrease in sales, and 12% were concerned about the difficulties in getting foods and materials due to Brexit. A lack of suitably skilled staff was the main cause of concern for 8%, while a reduction in public spending, too much competition and low profitability were each chosen by 4% of the businesses.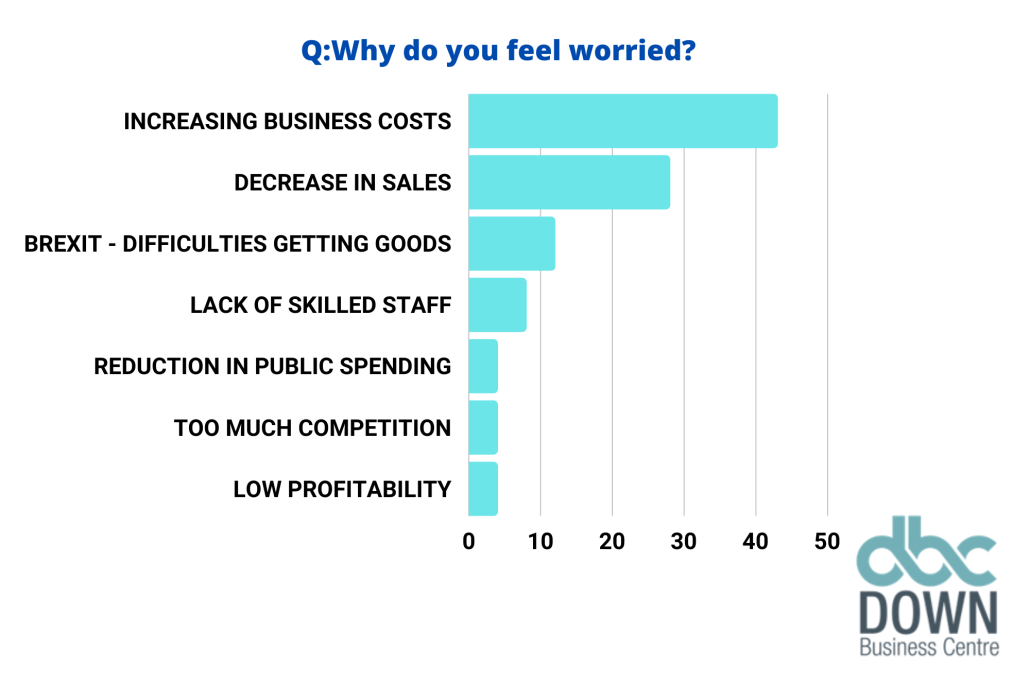 When asked what was their current business priority, 32% of owners said they needed to reduce costs, and 26% pointed to an urgency to increasing sales. Others see challenges such as developing new products or services (18%), raising prices to maintain profitability (12%), prioritising the recruitment of new staff (8%), and managing business debt (4%).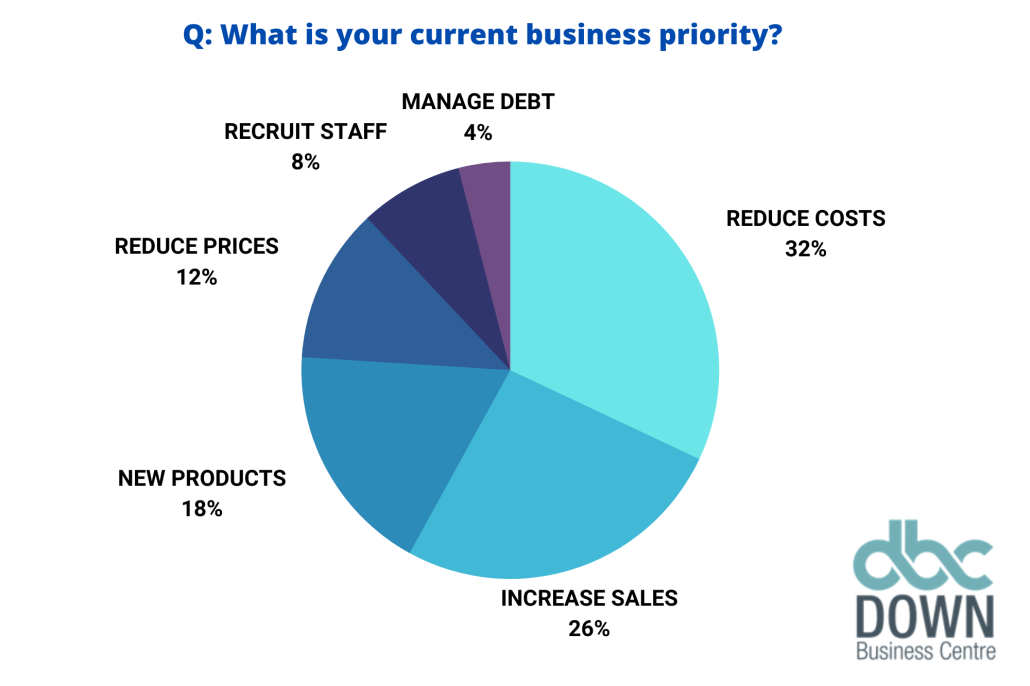 Commenting on the findings of the survey Down Business Centre Chair, Michael Morrissey, said it was encouraging to see the level of confidence that had been expressed and that the findings clearly highlighted the resilience and drive that exists across the small business sector.
"Being a small business owner has never been easy but it would be fair to say that the past few years have brought an unprecedented range of challenges and issues for everyone in business to manage.
 That said, the small business sector is a remarkably resilient one, and people who decide to set up in business on their own account are resourceful by nature.  It is very encouraging to see this level of confidence being expressed by business owners.  Challenges to face or not, they are focussed on growing their businesses and on maximising the opportunities that their markets present" said Michael Morrissey.
https://downbc.co.uk/wp-content/uploads/2023/03/Survey.jpg
423
1220
Big Wet Fish
https://downbc.co.uk/wp-content/uploads/2020/04/DBC-300x109.jpg
Big Wet Fish
2023-03-28 11:36:17
2023-03-28 11:45:38
Business Owners Confident Despite Challenges