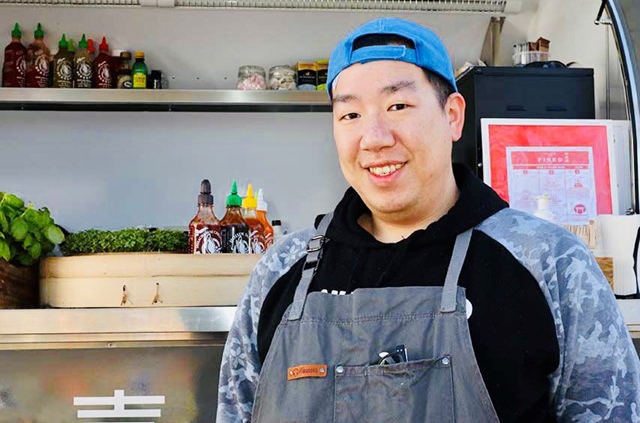 It's been a very memorable 9 months for David Lee.  Not only has he tied the knot with his long term partner Peter; he's started a successful Asian food business 'FIRED' in Killough.
The restaurant business is in David's genes.  His family emigrated to Northern Ireland from Hong Kong back in the 1980s and a short time later set up their own Chinese takeaway in Belfast.  The sound track of David's childhood was the sizzle of the wok, though at home while his mum stayed loyal to traditional Chinese cooking his dad took charge of the family kitchen on a Sunday and always served up a tradition Roast Dinner with all the trimmings.
After University of Ulster where he graduated in Business and Finance, David spent a few years working for Aer Lingus, Lufthansa and EVA Air in Los Angeles before returning home to work in IT and Business Support for some of the world's famous brands.
It was the meeting of his now husband Peter that ultimately set him on the journey to self- employment.  Peter is a ceramic artist  and he was keen to find somewhere where he could produce his ceramic art, run pottery classes and be at the heart of a local community.  The pair started looking for a home where Peter's enterprise could be based and eventually came across the old Preaching House in Killough where Preaching House Pottery Community Interest Company was born in early 2019.
For a while, David continued to commute to Belfast every day but he was having to leave Killough at 6.30am every morning and his work life balance was increasingly non-existent.
"I decided that something was going to have to give and so I handed in my notice and took up the offer of a job at a Chinese restaurant in Ardglass.  I loved it!"  says David.
He's always been a keen cook and friends and family had for a long time suggested that he should get more hands on in the restaurant business and turn his hand at cooking. Inspired by the success of Peter's pottery classes, David started to run Asian cookery classes in his spare time at the Preaching House which proved very popular.  A spark had been ignited and spurred on by Peter who had taken part in the Go For It Programme a few years back. He contacted Peter's Go For It Advisor Joan O'Hara at Down Business Centre to discuss the potential for establishing an Asian Fusion Street Food business in the coastal village.
"Joan was fantastic.  Not only did she talk me through each step I would need to take, to set up the business,  she was enthusiastic about the idea from day one which was a great confidence builder.  Together we developed a Business Plan for the new business and then with Joan's help, I submitted an application for a Rural Business Development Grant to help with the purchase of the necessary equipment as well as the Street Food Cart itself.   Thankfully I was successful and 'FIRED' became a reality. In April 2021 I served my first Bao Bun in the sunny garden of the Preaching House on Killough's Main Street.  FIRED's menu is very much a fusion of Asian cuisines – with the street food of Vietnam, Japan, Thailand and, of course, China all featured." says David.
When he launched 'FIRED' in April, David was still working part time in the Chinese Restaurant in Ardglass but that all changed when the opportunity to take on premises in the village arose.  In September, FIRED came 'off the street' and a dine-in cafe and take-away hatch was opened.  The business operates Thursday – Sunday and David is also planning a programme of 'Taste Of' Nights over the coming months as well as a programme of Cookery Classes" and "Cultural Workshops".  And the Street Food Cart business is also booming. The team can now be hired for Weddings and Special Events and can be often found delighting visitors at local Artisan Markets. When I ask David, what are his customers' favourites, he told me, "Our regulars rave about our selection of dumplings and Bao Buns."
So what of the future for the business?
Peter mentioned that, "When we were painting the walls on the new café, David commented that we would look back at this time and remember it as the start of a 'FIRED' Chain".
David laughs "You've got to have goals but we are definitely in a period of consolidation for the time being.  We got married in July, so I think we need to take stock for a while and just enjoy building our respective businesses and enjoying life.  Working on your own account is definitely hard work, it gives you the scope to create the lifestyle that you want.  I am so pleased that I took the plunge to Go For It and I would commend Joan and the team and Down Business Centre for the support they have given me to date" says David.
https://downbc.co.uk/wp-content/uploads/2022/02/David-Lee-of-FIRED-1.jpg
427
640
Big Wet Fish
https://downbc.co.uk/wp-content/uploads/2020/04/DBC-300x109.jpg
Big Wet Fish
2022-02-01 11:34:47
2022-02-01 11:34:47
DAVID'S ALL 'FIRED' UP IN HIS NEW BUSINESS