If you're ready to Go For It call Joan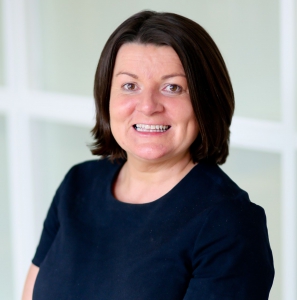 "Every successful business started the same way – with an idea and a plan.   I would encourage anyone who has a business idea, no matter how vaguely defined it may be, to do something about it.  It costs nothing to call me for a chat, but that chat could help change your working life.  I'm not here to judge your business idea but I'll give you an honest opinion and advice on what steps you should take next.  If that advice leads you to applying for the 'Go For It' programme you'll soon be on your way to developing a business plan and perhaps a new future".
There can't be many people who have helped over 2000 entrepreneurs take the first steps towards setting up their own business, but Joan O'Hara has the network of successful business owners to prove it.
Joan is Down Business Centre's Business Adviser and leads the delivery of the 'Go For It' and 'Exploring Enterprise' Programmes in the mid-Down area.   A History graduate from QUB with post-graduate qualifications in Business and Computer Studies, Joan has spent her whole career in the enterprise development sector, the last 17 years with DBC.  Over the years she's seen a see change in the attitude to self-employment with more and more people exploring the potential to work on their own account.  The pace of that change has never been greater than that currently being experienced.  The Covid-19 crisis has made all of us think more closely about the way we live our lives and that has resulted in a very significant increase in the number of people considering working for themselves either on a full-time or part-time basis.
"I think Lockdown proved to be a watershed for a lot of people.  Those who were forced to work from home got to see what it was like not having to commute into the office everyday and to experience the benefits that internet technology can deliver in terms of connecting and engaging with people remotely.  Others who sadly lost their jobs or who were furloughed in a sector that was significantly impacted by the restrictions have been motivated to investigate other ways of earning a living" says Joan.
"The working environment is much more flexible than it's ever been, and because of that I always tell people not to think of starting up your own business as requiring some huge leap of faith and the cutting of all other financial ties.  Most of the people who I am currently working with on the 'Go For It' Programme are hoping to set up a business as a part-time venture and to continue working in their existing employment while they see how things develop. The big thing they are doing is taking the necessary steps to making their dream a reality".
"Methodically researching your business idea – and the competition – and taking the advice of your Adviser who will challenge your thought process every step of the way is central to getting real benefits from the 'Go For It' Business Planning process.   Over the years I have seen distinctive trends in new business ideas and all too often people seek to follow the trend without recognising the level of competition they are likely to face.  Personal Fitness Instruction, Candle Making, Mobile Coffee Trucks have all been very popular in recent years but the potential for being able to establish a viable business in these areas is now waning because of the level of competition.
"Also remember that to establish a new business doesn't always require a ground-breaking idea, many businesses succeed by simply delivering a better product or service than the existing players in the marketplace."
Joan is at pains to stress to her clients the importance of keeping up to date with their skill levels and of networking with influencers and decision makers who can make the difference to the success of their business.
"Working on your own account can become all-encompassing and it's important to remember to nurture yourself and your business – because if you don't, no one else will.  A work-life balance is important whether you're employed or self-employed and, if it's not a contradiction in terms, it's something that people with their own businesses have to work particularly hard at to achieve.
"In my 17 years with Down Business Centre I have never failed to be impressed with the creativity and determination to succeed of the local people who come through 'Go For It'.  I find my job very rewarding because I get to support people on a journey that often does really transform their lives for the better.  I've seen that initial spark of an idea grow into a business employing 20 people and it all started with a call about 'Go For It' " says Joan.
If you've got a business idea and would like to discuss it with Joan please email or telephone her  joan@downbc.co.uk  Tel: 02844616416
https://downbc.co.uk/wp-content/uploads/2022/02/Joan-OHara-Business-Adviser.jpg
1284
1270
Big Wet Fish
https://downbc.co.uk/wp-content/uploads/2020/04/DBC-300x109.jpg
Big Wet Fish
2022-02-01 11:32:25
2022-02-01 11:32:25
NEW BUSINESS IDEA FOR 2022?