This month we launch a new feature focussing on successful local businesses with a profile on a company that is enjoying a growing reputation for design excellence.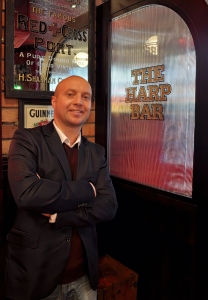 Based at Darragh Cross, Fresh Designs is the baby of Michael McKervey, a designer with over 23 years' experience, who has brought a fresh approach and creative thinking to design work. He has delivered a versatile portfolio of interiors for clients across the island of Ireland, as well as London, and has vast experience dealing with complex, unique, and challenging environments. His professional achievements include 'Best Interior Design of the Year' in the Belfast Telegraph Property Awards and an NAS Design Award in London.
A quick look at Michael's impressive designs show why the awards keep coming. From the initial creative concept design stage, through to bespoke construction drawings and site management to delivery of completed of projects on time, Fresh Interiors certainly provides the wow factor.
Michael's business prides itself on its diverse range of unique and bespoke projects and a client partnership approach. This is evident from his high quality design solutions for the hospitality trade – 'The Harp Bar', 'The Dark Horse', 'The Friend At Hand' (to name a few) – to commercial offices and private homes, the company's attention to detail and passion for design keeps customers coming back for more.
"With the global pandemic teetering out to a level where businesses can start to recover, I feel it's such an achievement to actually still be in business in 2023," says Michael. "This was largely due to the fact that prior to the start of the pandemic, we were involved in several distinguished design projects, which were temporarily terminated, but whenever government restrictions were lifted, we could continue with completing the assignments."
Michael highlights one particular project within the past 2 years which he believes raised the bar to an exceptional standard beyond that of previous projects. That involved the extension (or Phase 2) to the already famous 'The Friend At Hand Irish Whiskey Store, located in Hill Street in the heart of Belfast's Cathedral Quarter.
Having initially created 'The Friend at Hand' in 2017 as Ireland's only dedicated Irish Whiskey Shop – the first of its kind in Ireland, selling solely Irish Whiskey combined with a small Whiskey Museum (on the 1st Floor) and where many of the products are not for sale – you press the buzzer and walk into a magical world of whiskey. With row upon row of glass cabinets carefully cosseting the many bottles of famous Irish whiskey.
Michael remembers the project with fondness. "The brief for the recent extension was to transform the adjoining ground floor unit, a former contemporary restaurant, into a traditional Victorian Irish off sales, matching the aesthetic of what had been created back in 2017, whilst also adding a Whiskey Museum to the rear of the premises with a very unique and distinctive style.
The extension had to have access via the existing premises with an opening formed between the existing and adjoining premises, a tricky feat considering the existing store had to continue to trade and the adjoining premises were on a higher ground floor level. Knowing that the design style needed to reflect the traditional character of a typical off-sales, which resonated in early Victorian times, Michael achieved this by utilising distinctive materials of that period – Lincrusta on the ceiling; flock wallpaper on the walls; Italian Terrazzo flooring and dark Mahogany wall panelling; and Victorian Mosaic tiling.
Michael was also tasked with amalgamating both the client's personal antique collection along with their personal Whiskey collection (including some signature pieces). Taking centre stage, in particular, an antique hand-woven Axminster carpet, which once held pride of place at the Bank Of Ireland head office in Dublin. It's the last woven carpet to come from the Killybegs factory in Co. Donegal, which produced carpets for the Oval Office and Buckingham Palace. This carpet may be of interest to the Ulster Museum, due to its provenance and historical significance and is a striking feature laid centrally within the off-sales area (see attached supporting photos).
The Whiskey shop and museum amalgamates into the scheme an enviable collection of antiques and a unique Copper counter, along with new bespoke display cabinets whilst creating the old charm and character of a 100-year-old establishment.
The client, Mr Willie Jack, explained the thinking behind the project, 'Not only do we have an exquisite collection of extremely rare Whiskeys, original Mirrors, decanters and other antiques collected over the last 40 years, The Friend At Hand is unlike anything else in the world and will help to tell the story of Belfast's Whiskey history – it's more like a museum than a Whiskey shop.'
Michael had worked with the renowned publican for a period of over 13 years. "Like any client-designer relationship, you not only need to know what they think but you need to know how they breathe and anticipate their every wish. Willie's direction was as simple as; 'I want you to create a Traditional Irish Off-Sales' with a hint of Victoriana paying homage to the early 1800 to 1900's – Belfast's glory days."
From that, Michael has turned a long-term dream of Willie's into reality where Willie could display his extensive antique collection of Irish whiskey as well as the distinctive Belfast memorabilia (ceramic whisky decanters, mirrors, carpet, and artefacts) – each one Willie can tell you of its authenticity and certificates are proudly displayed in the shop.
Michael says: "The Friend At Hand has been affectionately described as a love letter to Belfast and its legacy, so as the designer I feel very privileged to have been asked back to create the extension. Our design skills, spatial expertise, and flair have truly been demonstrated to transform this former restaurant into an unrecognizable and spectacular space showcasing the finest Irish whiskey money can buy."
He added: "At Fresh Interiors we believe in total transparency and building trust with our clients. We provide a completely bespoke design service, fully in accordance with their needs and budget. Every project is given due care and attention regardless of scale or financial merit. We pride ourselves on developing great business relationships with our clients and take them on a journey through the transformation of their premises. Our suite of services is all-encompassing and we have found that for our clients, this approach counts! We assist clients on the journey of their projects to ensure that the design, vision and attention to detail are maintained to our exceptionally high standards. Plus, we deliver on budget and aim to exceed client expectations. The real success in our work comes from working with clients over and over again. It's this endorsement for our work and our partnership approach, that's a testament to the dedication that we deliver time and time again."
Michael recognises that the Design and Construction sector is a fast-paced environment which is constantly evolving and innovating with different materials and technology becoming readily available to assist the design and construction stages. "We are constantly keeping up to date with these changes and are actively involved in CPD events, networking with suppliers and reaching out to new business within our industry to learn of new technologies and materials which would benefit our clients within their projects.
"Each project requires statutory approvals and we undertake this process as part of our services and we are kept up to date with any current changes within statutory legislation. At times we work closely with Architects and Structural Engineers as well as Mechanical & Electrical consultants to provide a level of expertise, which may at times be beyond our capabilities. This design team approach provides our clients with full confidence in our ability to deliver high quality and exceptional standard of work.
So, how does Michael view his day-to-day activities? "As a sole trader and design director it can be challenging managing and actively working on the business. I'm aware of my strengths and weakness and therefore enlist the support of local business organisations along with governmental departments which can offer the advice required to grow and thrive to achieve our full potential. We're passionate about interiors and deliver fresh thinking for our clients. Creating spaces that reflect a client's brief and, most importantly, will translate their concept into an awe-inspiring space is what we do best. No two clients' interiors are the same and our style comes from thorough research, global sourcing and spatial expertise, whilst striving for perfection and exceeding clients expectations."
For further information visit https://freshinteriorsni.co.uk/.
Fresh Interiors' eye-catching designs for The Friend At Hand:
https://downbc.co.uk/wp-content/uploads/2023/05/web_2.jpg
630
1500
Down Business Centre
https://downbc.co.uk/wp-content/uploads/2020/04/DBC-300x109.jpg
Down Business Centre
2023-05-29 18:21:01
2023-09-04 10:11:34
From Darragh Cross to London and across Ireland – Meet a Local Businessman Who Is Shaking Up the Design World.