Congratulations to our Go For It client Aideen Rodgers on the opening of her new coffee and sandwich bar 'Joy Street' in Annacloy.
Aideen who has over 10 years' experience of working in the local hospitality sector – until recently she was a manager in the very popular AJ's restaurant in Crossgar – opened the doors to her new business in early March. Conveniently located in the middle of the village on the main route between Downpatrick to Ballynahinch, Joy Street has quickly become a popular stop for local residents and businesses as well as the high volume of car and commercial vehicle drivers who pass its doors every day.
Aideen has deliberately kept her menu simple while focussing on using local ingredients and delivering the very best in quality. Freshly made sandwiches, soups, stews, scones, traybakes and cakes are the order of the day complemented with barista quality coffee, teas and soft drinks.
While Aideen is at the helm 6 days a week, her sister Cathy is also involved in the business when her busy job as a District Nurse allows.
And where did the name Joy Street come from? Well we'll let Aideen and Cathy explain:
"We are two sisters on a mission to bring you the classiest coffee, the tastiest toasties and the most succulent sandwiches in good old Norn Iron! We were both born and bread (see what we did there?) in Annacloy, so we're all about serving you fresh, locally sourced ingredients.
As marketing guru's often say 'It's all in the name' and we thought long and hard about the name so here's the story behind it.
If you know Annacloy, you'd have known our Granny Marie. Well we say 'our' but she was everyone's granny really. Her door was always open, with a massive pot of homemade vegetable soup on the hob, and woe betide you if you didn't accept a bowl before you left. When you took a cup of tea, you had to take something with it or 'tillit' which meant a sugar piece, a biscuit or a slice of apple tart.
Although Granny Marie was an Annacloy legend she was originally from Joy Street, Belfast. When she was 14 years old – at the height of World War 2 her family moved out here to the sticks. She told us of one dreadful night in Joy Street when her whole family huddled under their stairs as the houses to the left and to the right were destroyed. So off to Annacloy they went, to live in a one room tin hut until her daddy built their home. She stayed, raised her family and we're so glad for it!
The joy Marie Kearney brought to our lives and everyone who knew her will never be forgotten. We think naming our wee shop after her is a fitting tribute and we hope to spread a little more joy in Annacloy. We look forward to welcoming you to Joy Street soon!"
Check out the Joy Street Facebook Page here.
In planning for her new business Aideen applied to the Go For It Programme and worked with DBC Business Adviser Joan O'Hara to develop a Business Plan and bring her business idea forward. If you have an idea for a new business please contact Joan to find out how Go For It can help you.
joan@downbc.co.uk
Tel: 028 4461 6416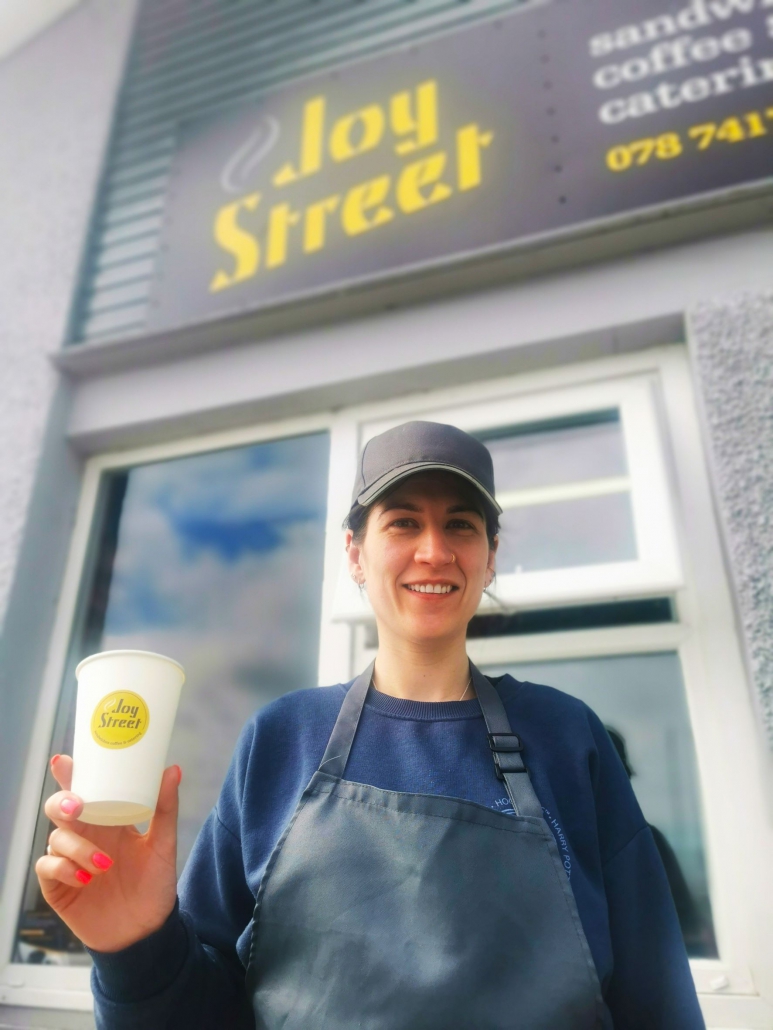 https://downbc.co.uk/wp-content/uploads/2022/04/Joy_Street.jpg
423
1210
Big Wet Fish
https://downbc.co.uk/wp-content/uploads/2020/04/DBC-300x109.jpg
Big Wet Fish
2022-04-28 16:29:18
2022-04-28 16:30:07
Introducing Joy Street – the Latest Coffee & Sandwich Shop