Sixty percent of Small Business Owners in the Newry, Mourne and Down Council area are feeling optimistic about the prospects for their business.
That is the headline finding of a Business Confidence survey recently conducted by the Down Business Centre team.  112 local business owners responded to the Local Enterprise Agency's survey which was conducted on-line earlier in the month.
When asked how they feel about the prospects for their business going forward 60% of respondents said they felt 'Optimistic', 35% said they were 'Not Sure' and only 5% said they felt 'Pessimistic'.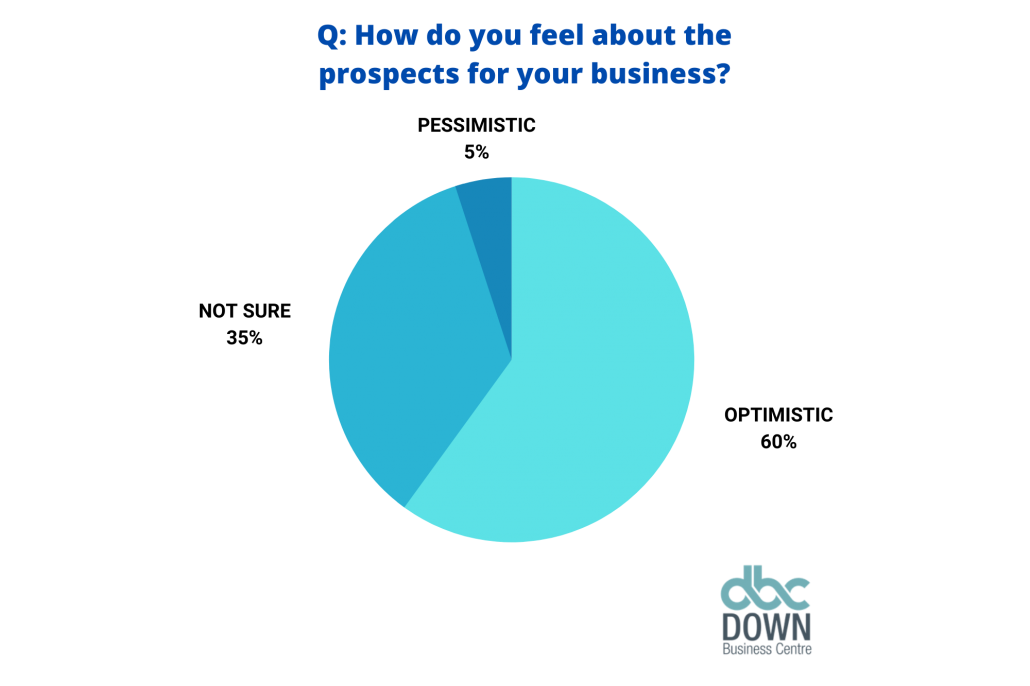 This level of positive response is particularly encouraging given the impact that the Covid -19 crisis has had on these businesses.   Asked how they would rate the impact on their business since the first lockdown in March 2020, 45% of business owners said it had been 'Severe', 48%, said it had been 'Moderate' and 7% said there had been only a 'Minimal' impact on their business.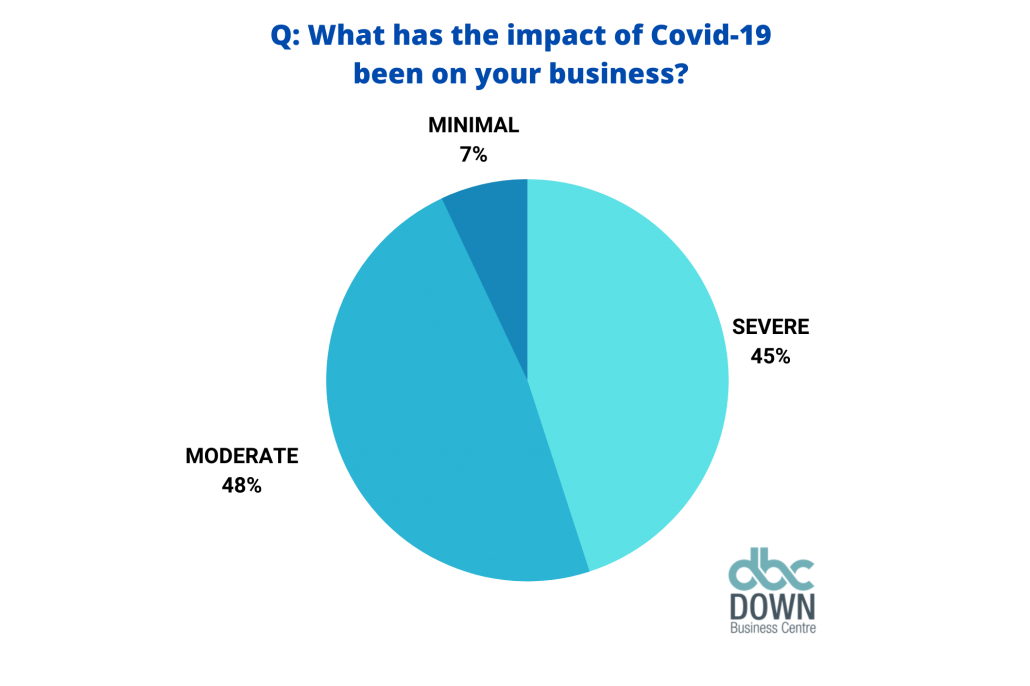 Looking specifically at what the biggest concern in their business currently is 82% said it is the prospect of further lockdowns being imposed, for 56% it is Brexit related difficulties in getting goods and materials, 53% said it is working within Covid-19 guidelines, 31% are concerned about servicing debt and 30% cited Staff Shortages.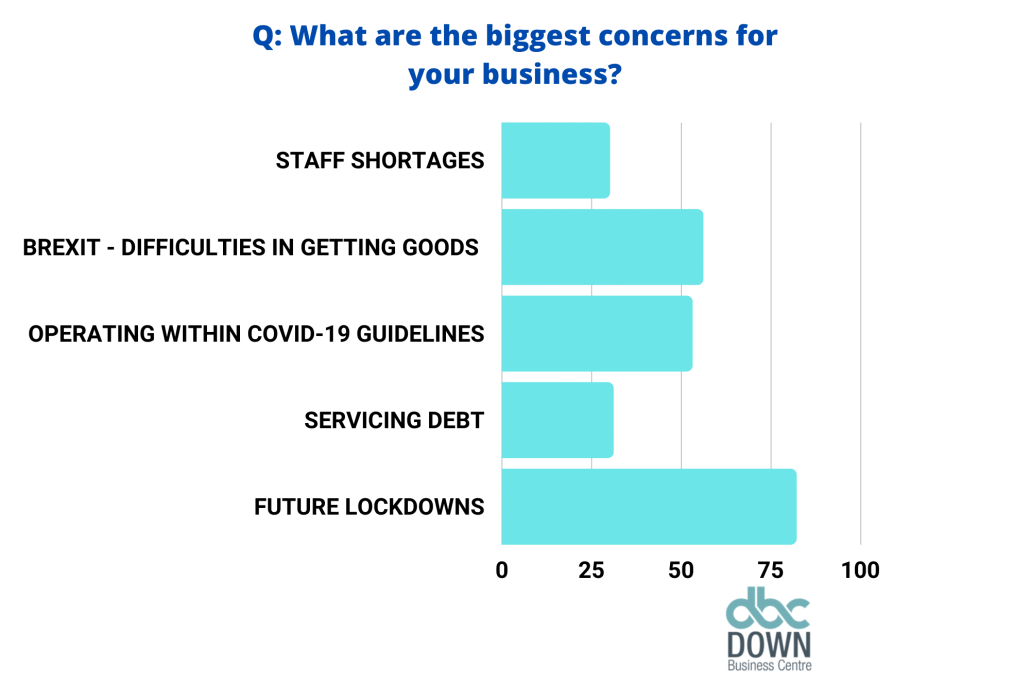 And the immediate priority for their businesses is overwhelmingly Sales and Marketing focussed with 36% citing Sales and 29% Marketing.  Operations is the priority for 19% of respondents with Finance at 14% and HR and Staffing at just 2%,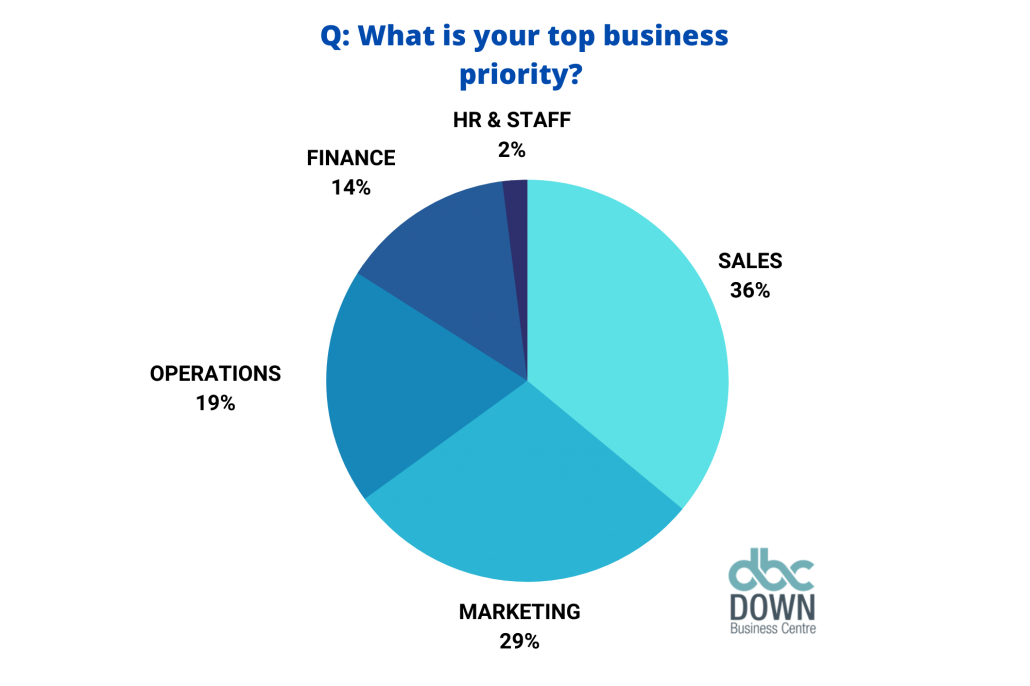 Commenting on the findings of the Business Confidence Survey Janice McDonald, General Manager, Down Business Centre said that it was very encouraging to see such a high level of optimism being expressed despite the very difficult times most business owners have experienced over the past 19 months.
"There is no doubt that business owners are a very resilient bunch and it is clear from the findings of our Survey that local small businesses are determined to meet the challenges of emerging from Covid-19 restrictions head on, and to push forward with growing their businesses again.  The focus on Sales and Marketing cited by 65% of the businesses surveyed shows a real sense of optimism.  The Covid-19 crisis obviously made it difficult for so many businesses to engage effectively with their existing customers and clients let alone reach out to a wider market.  With restrictions now relaxed the opportunities to promote and sell again are very strong in many sectors.
 The level of concern about the prospect of further lockdowns being imposed is very significant – with 82% of respondents highlighting this worry – and clearly should such measures be required the impact on Business Confidence would be dramatic. It is interesting to note that difficulties in getting goods and materials as a result of the Brexit Protocol are a concern for 56% of businesses and that 30% of local small businesses have concerns about staff shortages"  said Janice McDonald.
https://downbc.co.uk/wp-content/uploads/2021/10/DBC-Confidence-Survey.jpg
423
1210
Big Wet Fish
https://downbc.co.uk/wp-content/uploads/2020/04/DBC-300x109.jpg
Big Wet Fish
2021-10-27 08:35:34
2021-10-27 08:35:34
LOCAL BUSINESSES OPTIMISTIC ABOUT PROSPECTS AS COVID-19 RESTRICTIONS RELAX