The Covid-19 crisis has had a major or severe impact on two-thirds of small businesses in the Newry Mourne and Down Council area and over a third of business owners have experienced major or severe mental health problems as a result.

These are the headline findings of a Down Business Centre survey, which focussed on the impact of the Covid-19 pandemic on the local self-employed sector. 105 local business owners responded to the Local Enterprise Agency's survey which was conducted on-line during the last week of February.
When asked to rate the impact of Covid-19 on their individual businesses, 36% of respondents said it had been severe, 23% that it had been major, 30% that it had been moderate and only 11% considered it to have had only a minimal impact.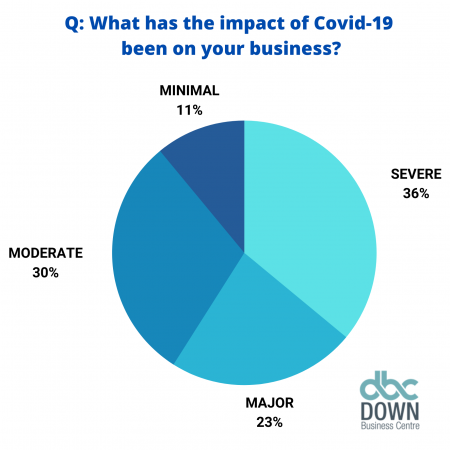 Asked specifically about their mental health over the past year, 14% of business owners said Covid-19 had had a severe impact on their mental wellbeing, 22% had experienced a major impact, 44% a moderate impact and 20% a minimal impact.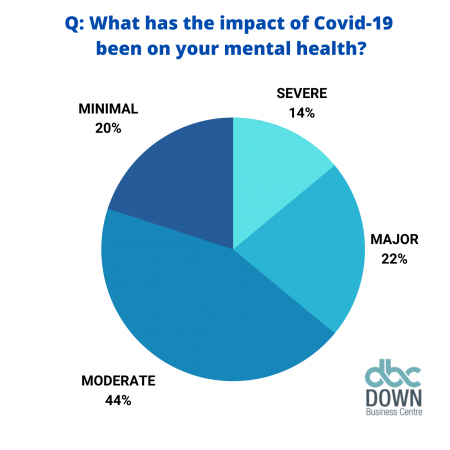 The pressure of keeping their business viable 34%, uncertainty about the future 30% and not being able to see family and friends 19% were the reasons cited for the decline in their mental health by respondents.
Looking at how their wellbeing had been specifically impacted, 62% of business owners said they had experienced a lack of motivation, 56% had suffered from stress, 55% had sleep problems, 51% had anxiety, 48% had found it difficult to switch off from work, 33% had experienced low self-esteem, 30% had suffered from depression, 33% had experienced loneliness, and 17% had had relationship problems.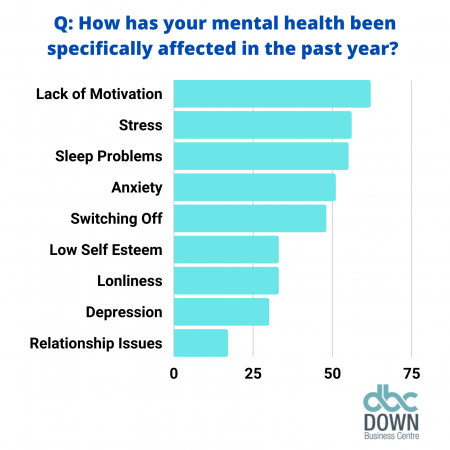 Commenting on the findings of the survey, Janice McDonald, Manager of Down Business Centre, said it was hardly surprising that the impact of Covid-19 on the small business owner sector had been so profound given the high levels of negativity that they had to deal with.
"This has been a very difficult year for all of us" said Mrs McDonald "but there's no doubt that anyone who has had the responsibility of keeping their own business going through this pandemic has had a lot to cope with. The survey has highlighted the major impact that the Covid crisis has had on the mental health of self-employed people. It is interesting to see that 62% of them have experienced a lack of motivation. Mental health experts highlight this as an early indicator of depression or anxiety, borne out by 81% of our respondents saying they have experienced one or the other."
The survey also asked local business owners what they were currently worried about. 26% said their biggest current concern was their own financial security, 26% said it was the future stability of their business, 14% are worried about having to close down their business, 13% said knowing what to do next, and 12% said they were concerned about their own wellbeing.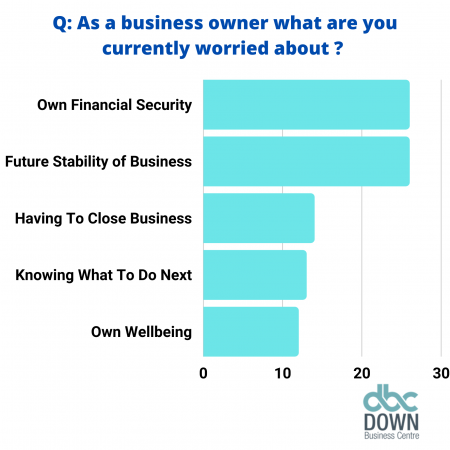 "In undertaking this survey we were very mindful that we are far from being out of this Covid-19 crisis and that the level of uncertainty about the future – at a personal and business level – remains very high," said Mrs McDonald. She added: "The small business sector plays a vital role in our local economy and as a Local Enterprise Agency we recognise the need to support local business owners corporately and personally. In responding to these findings we will be looking at ways in which we can help local self-employed people to develop their coping mechanisms and boost their resilience."
https://downbc.co.uk/wp-content/uploads/2021/02/headache-1910649_1280.jpg
768
1280
Big Wet Fish
https://downbc.co.uk/wp-content/uploads/2020/04/DBC-300x109.jpg
Big Wet Fish
2021-03-10 10:47:41
2021-03-10 11:10:36
SURVEY REVEALS SERIOUS COVID-19 IMPACT ON LOCAL SELF EMPLOYED