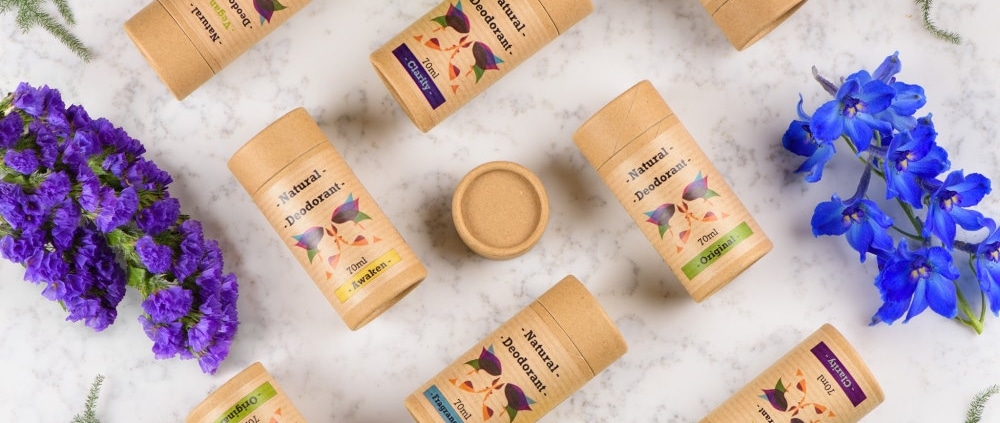 Green Ladies N.I make Natural Deodorants that not only really work but use only 100% natural ingredients and eco-friendly biodegradable packaging. So, as their promotional material says 'They're good for You and Mother Earth'
The business was the brain child of Tracy Megoran, a former hairdresser and Siobhán Ní Dhea, a local singer-songwriter who first had the idea back in 2015 on a travelling trip to France.
Tracy had newly retired from two decades of working in the hairdressing industry and found immediate benefits by reducing her exposure to the chemicals that are commonplace in that environment. This led to further investigation about the products we use daily, what kind of chemicals go into them and the effects of those chemicals. Deodorant and antiperspirant were top of the list and Tracy decided to do some research and conduct an experiment while they were camper-vanning around France.
Siobhan, who already had a keen interest in aromatherapy and holistic living joined in on the experiment and they found it took nearly 4 weeks to detox from regular deodorant/antiperspirant. The aluminium and parabens used in many of these products block the sweat ducts in the armpits and there is concern that these chemicals might be absorbed by the user. Sweating has become a taboo and chemically altering this perfectly natural process has become the norm, but the Green Ladies wanted to change that.
Back home, Siobhan developed a recipe for an all-natural deodorant that uses only nourishing ingredients and beneficial essential oils.  After a few attempts she found a recipe that worked well and smelt great so now the next step was to package it. We wanted our product to reflect our core values – respect and compassion for ourselves and our environment, so plastic was never an option.  We sourced biodegradable cardboard tubes, designed, and printed our own Kraft labels and within a few months we were almost ready to go into business.
With Tracy`s entrepreneurial skills and Siobhan`s recipe the Green Ladies N.I was formed in September 2018 and they became tenants of Down Business Centre in at the end of 2019
In just over two years the company has gone from strength to strength.  They now have over growing list of stockists in the Zero Waste and Health and Beauty sectors across Ireland and have plans to widen their product range further.
www.greenladiesni.com
https://downbc.co.uk/wp-content/uploads/2021/02/Green-Ladies.jpg
800
1000
Big Wet Fish
https://downbc.co.uk/wp-content/uploads/2020/04/DBC-300x109.jpg
Big Wet Fish
2021-02-08 13:49:16
2021-02-08 15:03:06
COSMETICS WITH A CONSCIENCE – Meet our tenant Green Ladies NI